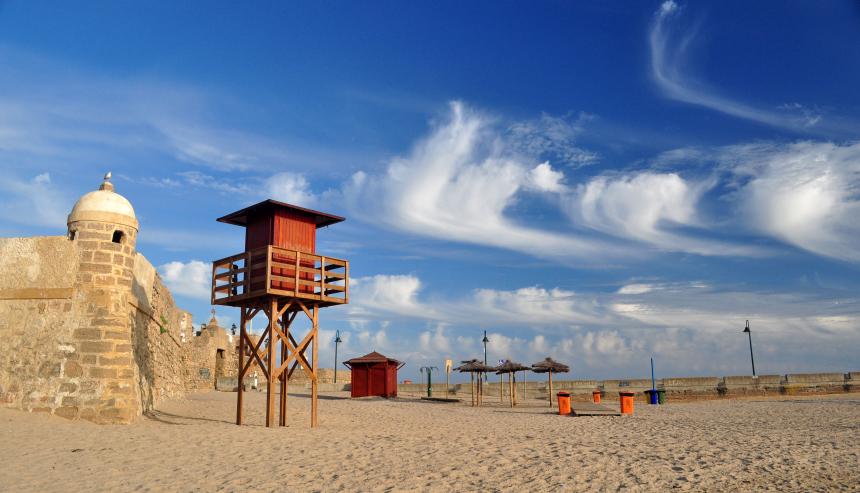 Cádiz, dominating an arm of land thrust out into the Atlantic Ocean, is among the oldest continuously inhabited cities of Western Europe.  Founded as Gadir by the Phoenicians some 3000 years ago, Cádiz has been an important port city for Phoenicians, Greeks, Carthaginians, Romans, Moors, and of course the Spanish.  From Hanibal's invading forces to Spain's modern navy, Cádiz has played a key role in the history of the Iberian Peninsula.  Perhaps most importantly, Cádiz was the last toe-hold and seat of the military forces defying Napoleon's forces during the Napoleonic War, which threatened to install the French emperor's brother, Joseph Bonaparte, on the country's throne.  It was also in Cádiz and as part of the resistance that the important Constitution of 1812 was proclaimed; the city celebrated la Pepa for its two hundredth anniversary in the summer of 2012.
Cádiz retains much of its ancient feel and charm: the casco antiguo is still a warren of winding stone streets joining an assortment of unexpected plazas; and between the sea and the sandy foundations of the land the cityscape has not been able to sprawl or stretch too far skyward.  A half-hour's leisurely walking in any direction finds the sea wall that bounds the old city, overlooking the Atlantic Ocean.  Wide beaches span large sections of this 'almost island', while rocks filled with tide pools dominate others.  Off the popular Caleta beach, a lighthouse marks the San Sebastián fortress at the end of a long, narrow promontory and makes for a pleasant stroll out into the harbor.  Still, Cádiz is a modern city, too, and hotels, restaurants, and many shops and foreign stores can be found along its narrow streets and wide squares, and WiFi zones abound.
About the program
Students in the Cádiz program take two SPAN courses (6 academic credits) taught on the campus of the University of Cádiz by UCA faculty.  Courses offered include intermediate and advanced conversation and composition, topics in Spanish culture, and introduction to Hispanic Linguistics.  The program features a homestay in local homes with full board and weekly laundry.  Activities include a weekend trip to Granada to visit the world-famous Alhambra, as well as shorter excursions to Sevilla and Córdoba.  Participants in this program therefore visit what are among the most storied and historically important of the cities of Andalusia—Sevilla, Córdoba, and Granada—and Jerez and Tarifa are right around the corner.  So consider spending six weeks in the city the Greeks said was founded by Hercules.
Semesters offered
Summer
Excursions
Granada / Madrid
Housing
Participants live and eat their meals in local Spanish households. Host families provide laundry services for the students.