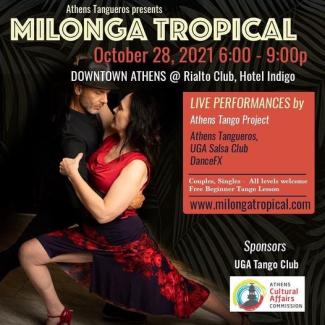 Downtown Athens @ Rialto Club, Hotel Indigo
Special Information:
FREE - Ends at 9:00pm
Milonga Tropical is making a resurgence after a two year hiatus because of COVID. Put your dancing shoes on and join us for social dancing with tango, salsa, bachata and merengue from 7-9p. If you want a free beginner Tango lesson, come from 6-7p. Hotel Indigo, October 28.
Also see live performances by Athens Tango Project, UGA Salsa Club and Dance FX, featuring Stephanie Lynn of Franklin OIT and Dr. Fuad Elhage of the Department of Romance Languages. This cultural event is free and open to the public. Everyone is welcome!
Sponsored by the Athens Cultural Affairs Commission and the UGA Tango Club.