Image: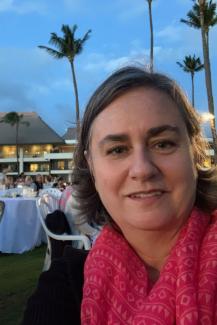 A warm welcome to Dr. Brenda Ross! The Department of Romance Languages is happy to have you with us. This profile is part of a series featuring faculty members new to UGA campus in Fall 2022:
Brenda M. Ross joins the Department of Romance Languages at UGA as Lecturer of Spanish. Born in the US, she lived in Uruguay for nearly twenty years and is a balanced bilingual in Spanish and English as well as fluent in Portuguese. Dr. Ross earned her PhD in Applied Linguistics from Penn State University after completing an MA in Teaching English as a Second Language and  BAs in Spanish-Portuguese and Linguistics. She arrives from the University of UNC Greensboro where she served as the Foreign Language Education Program Coordinator for Teaching Licensure.  Her current research interest is Corpus Linguistics, specifically the creation of a corpus of student texts in Spanish in order to analyze students' patterns of use of the Spanish language.
Dr. Ross is excited to dedicate time to teaching, her true passion, at UGA. She has already discovered that one of her favorite spots on campus is the Founders' Garden and she looks forward to discovering many more beautiful spots on campus and in Athens!