Image: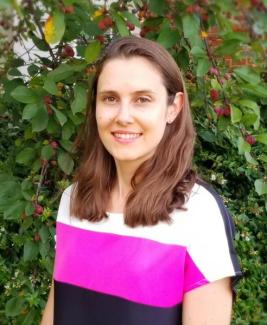 A warm welcome to Dr. Samantha Gillen! The Department of Romance Languages is happy to have you with us. This profile is the first of a series featuring faculty members new to UGA campus in Fall 2022:
Hi, I'm Samantha / Sam! I am thrilled to join the department of Romance Languages at the University of Georgia. I spent the last six years in Philadelphia obtaining my PhD in Italian Studies at the University of Pennsylvania. I defended my dissertation "Narrating the Industrial Space: Intellectuals and the Italian Economic Boom (1955-1965)" in May of 2022. My research interests are Italian industrial literature, cinema, postwar culture, the economic boom (1958-1963), second language acquisition, and foreign language pedagogy.
I grew up in Sarasota, Florida and attended Florida State University for my BA and MA degrees. I started as a vocal performance major but switched to a general music degree after taking two Elementary Italian classes. It was my wonderful Elementary Italian instructor, Diana Colosimo Huber—a graduate student—that inspired me to add an Italian major, which would eventually turn into an MA and a PhD. I had studied opera and classical piano for nearly a decade, so continuing at the college level seemed like a logical choice. I had learned Italian diction when I was a youth chorister at the Sarasota Opera company from 1999 to 2008. It was exciting to match the pronunciation of words I learned as a kid to a lexical or grammatical significance in my Italian language classes in college. I received scholarships to study in Florence, Lecce, Rome, and Perugia. I'm still in contact with my host families. Those experiences were invaluable on a professional and personal level, and my passion for the Italian language eventually led me to study German and French.
In a pedagogy course for my MA, we read a text by Bill VanPatten of Michigan State University in which he described teaching as a performance. This resonated with me; I, too, in my first year as a graduate teaching assistant, reflected on the practice as such. As language teachers, we are conscious of our body language, tone of voice, gestures, and eye contact with students—perhaps especially at the elementary level. The way in which we introduce grammar or review topics can also be performative: I think about how I will deliver information and where I will exaggerate for effect. I also create intentional moments of silence after salient statements. This is not to say I think teaching should be scripted, but effective teaching involves repetition and rehearsal, a consideration for delivery, timing, and reflection. I may stand at the front of the class, but I am just one part of the operation. The ensemble—the full cast—is necessary for a thriving event. Delegating responsibility to students and drawing from their contributions as much as possible creates a community where we can all learn from each other.
Although I no longer sing opera or play piano, I found a way to keep performing. It turns out that my favorite castmates are not singers and musicians, but my language students. I began studying Italian at the college level, just like they are doing. I know that one instructor can change the course of a student's academic trajectory. My goal for the end of every class is to have imparted an interest – even at the smallest level – in the Italian language or culture that will inspire students to continue studying the language and to incorporate Italian into their own academic fields. I demonstrate that my classroom is a space in which learners can feel safe, appreciated, and appropriately engaged. I'm looking forward to getting to know UGA students and learning about their interests and goals as we discover the world of Italian language and culture together.