Photo: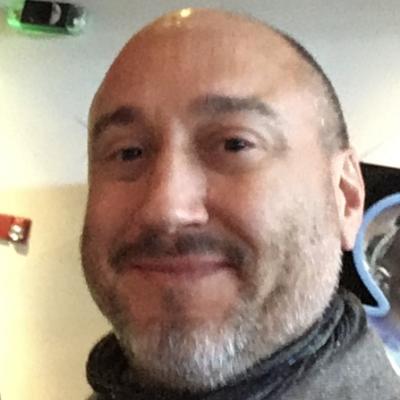 Associate Professor of Spanish Linguistics
Director of UGA en Buenos Aires
Co-advisor of Sigma Delta Pi
Contact Information
Office Hours:
(spring 2020) by appointment
Programs:
Romance Languages
Spanish
(Ph.D. University of Iowa, 2010)
I am Associate Professor of Hispanic Linguistics specializing in syntax. In my research, I seek to discover insight on how language is represented within the human mind - in monolinguals and multilinguals alike. My theoretical interest focuses on the syntax of subjects, clitics and left-peripheral elements and their interaction with information structure. I additionally employ a variety of experimental methods based on second language acquisition and psycholinguistic research in order to elicit quantitative psycholinguistic grammar judgment data. My current research interests include the prosody of contrast and CLLD in Galician and Spanish, the L2 acquisition of word order variation in Spanish, and subject expression in partial null-subject languages like Caribbean Spanish, Brazilian Portuguese, Finnish, and Marathi. You can see my Linguistics Program webpage here, and my Research Gate page here. 
I am a faculty advisor for the Delta Gamma chapter of Sigma Delta Pi, the Spanish Honor Society at UGA. 
I taught for UGA en Costa Rica in summer 2014 and 2015, and UGA en Buenos Aires (UGABA) since summer 2016. I have been Director of UGABA since fall 2016.
I am also working on a number of international collaborations as well as an Experimental Research in Linguistics Initiative (ERLI), which focuses on developing, exploring, and adapting psycholinguistic research tools such as surveys and eyetracking. We are currently analyzing data from a project on control and raising in Brazilian Portuguese!
Potential graduate students: Are you considering graduate studies in linguistics or Hispanic linguistics? Unsure of what that entails or what you can study related to syntax? Please send me an email so we can explore the possibilities. Past and present students, either under my direction or as part of a committee on which I served, have studied the following topics: partitive clitics and clitic doubling in Spanish, idiom processing in L1 and L2 English, the discourse-pragmatics interface with syntax in Finnish, cliticization in Old Spanish and Galego-Portuguese, the syntax of ello in Dominican Spanish, the L3 acquisition of syntax and phonology in Brazilian Portuguese (L1 English/L2 Spanish), nominalized infinitives in Spanish, the second language acquisition of French prosody, Tunisian Arabic-French code switching, bare nominals in Spanish, clitics in Western Iberian Romance, Spanish-English bilingual attrition, and the syntax of the left periphery in Romance. Feel free to email me with questions! If you haven't read it, I also strongly recommend the book Surviving Linguistics by Monica Macaulay. 
Current PhD students under my direction are listed below. Please see my CV for a list of past and present UGA graduate student committees. 
Potential CURO students: I typically only do CURO projects/directed readings (HONS 4960H, 4970H) with former students of mine. However, I occasionally make exceptions in the case of highly recommended syntax students. See my CV for past CURO students and project summaries. 
Courses taught: (Want to know more? You can find past syllabi for my classes and any UGA course here!)
FYOS 1001 - Galicia: Language, History, and Culture (fall 2014-17, 2019 in English)
SPAN 3050 - Introduction to Spanish Linguistics (summer 2016, 2020; spring 2017-21)
LING 3150 - Generative Syntax (spring 2014, in English)
SPAN 4120 - Topics in Linguistics: The Languages of Spain (summer 2013, spring 2015)
SPAN 4120 - Topics in Linguistics: El bilingüismo en el mundo hispanohablante (fall 2019)
SPAN 4652 - Spanish Dialectology and Variation (spring 2015, summer 2015, fall 2020)
SPAN 4750 - Spanish Syntax (spring 2019, 2021)
SPAN 6350/ROML 6350 - Romance Linguistics: Theory and Analysis (fall 2016, 2020)
SPAN 6750 - Spanish Syntax (fall odd-number years)
ROML 8000/LING 8280 - Generative Second Language Acquisition (spring 2019, in English)
SPAN 8010 - Topics: Bilingualism and Languages in Contact (spring 2017)
SPAN 8750 - Advanced Spanish Syntax (spring 2018, 2020)
Note: I teach in the Department of Romance Languages and my SPAN linguistics classes are taught in Spanish. Unfortunately, students who do not know Spanish will find it difficult to take courses with me. 
Recent and forthcoming publications
Books
1. Gupton, T. 2014. The syntax-information structure interface: clausal word order and the left periphery in Galician. Berlin/Boston: DeGruyter/Mouton.
Peer-reviewed book chapters
1. Leal, Tania and T. Gupton. 2021. "Acceptability Judgments in Romance Languages"(Chapter 17), In Grant Goodall (ed.), The Cambridge Handbook of Experimental Syntax. Cambridge: Cambridge University Press. 
2. Gravely, Brian and T. Gupton. 2020. "Verbless DP interrogative constructions and enclisis in Galician" (Chapter 5), In Juan J. Colomina-Almiñana and Sandro Sessarego (eds.), Language Patterns in Spanish and Beyond: Structure, Context and Development. Routledge.
3. Gupton, T. 2018. "Syntax and Its Interfaces". In Geeslin, Kim (ed.). The Cambridge Handbook of Spanish Linguistics, 392-414. Cambridge: Cambridge University Press. 
4. Gupton, T. 2017. "Early minority language acquirers of Spanish exhibit focus-related interface asymmetries: Word order alternation and optionality in Spanish-Catalan, Spanish-Galician, and Spanish-English bilinguals". In Lauchlan, Fraser and María Carmen Parafita-Couto (eds.). Bilingualism and Minority Languages in Europe, 214-241. Newcastle upon Tyne: Cambridge Scholars Publishing. 
Selected peer-reviewed articles and conference proceedings
1. Knouse, Stephanie, T. Gupton, and Laurel Abreu. 2015. "Teaching Hispanic Linguistics: Strategies to Engage Learners". Hispania 98(2), 319-332. 
2. Gupton, T. 2014. "Preverbal Subjects in Galician: Experimental Data in the A vs. A' Debate". Probus 26(1), 135-175. 
3. Gupton, T. and Sarah Lowman. 2013. "An F Projection in Cibeño Dominican Spanish". In Cabrelli Amaro, Jennifer, Gillian Lord, Ana de Prada Pérez, and Jessi Elana Aaron (eds.). Selected Proceedings of the 16th Hispanic Linguistics Symposium, 338-348. Somerville, MA: Cascadilla Proceedings Project. 
4.  Gupton, T. and Tania Leal Méndez. 2013. "Experimental Methodologies: Two Case Studies Investigating the Syntax-Discourse Interface". Studies in Hispanic & Lusophone Linguistics 6(1), 139-164.
5.  Gupton, T. 2012. "Object Clitics in Galician and Complications for Clausal Analyses". In Geeslin, Kimberly and Manuel Díaz-Campos (eds.), Selected Proceedings of the 14th Hispanic Linguistics Symposium, 272-284. Somerville, MA: Cascadilla Proceedings Project.
Book reviews
1. Gupton, T. 2018. Focus-related Operations at the Right Edge in Spanish: Subjects and Ellipsis by Iván Ortega-Santos (review). Language 94(1), 225-228. 
Forthcoming works
1.  "Aligning syntax and prosody in Galician" 
2.  "A formal approach to ad sensum agreement in Spanish binominal expressions" (with Chad Howe, in review)
3.  "Focus at the syntax-discourse interface in Spanish: optionality and unaccusativity reconsidered" (with Silvia Sánchez-Calderón, in review)
Articles in preparation
1.  "Verbless DP interrogative constructions and enclisis in Portuguese and Galician" (with Brian Gravely)
Projects in various stages of development
1.  "Language typology, change, and innovation: The preverbal field in Cibaeño Dominican Spanish" (solo book-length project)
2.  "An experimental approach to raising and control in Brazilian Portuguese" (with Doug Merchant and Marcello Modesto (USP), in data analysis)
3.  "Aligning syntax and prosody in the Spanish of Galicia" (with María Morado-Vázquez, in data analysis)
4.  "Information Structure and Mood Selection in New Mexico Border Spanish" (with Kathryn Bove, data collection in progress)
5.  "Experimenting with the OPC in Cibaeño Dominican Spanish" (with Carlos Gelormini-Lezama)
Upcoming conference presentations
1.  "Information structure and word order acceptability in Cibaeño Dominican Spanish: an experimental approach", Societas Linguistica Europaea (SLE2020, workshop on New Perspectives on Word Order Flexibility), August 26-27, 2020
Current PhD students under my direction:
Diogo Cosme (ABD)
Brian Gravely, Jr. (ABD)
María Morado Vázquez (ABD)
James Fenton Gardner
Ningxian Li
Allen Woodall III
Research

Research Interests:

My primary interest is the representation of language in the monolingual and multilingual mind. In particular, I am interested in how discourse/information structure combines with word order, and what makes some word orders more acceptable than others. Although my primary languages of interest are Western Romance (Galician, Catalan, Spanish, Caribbean Spanish, European and Brazilian Portuguese) and English, I have interests in other languages as well, and have worked with Mandarin, Korean, Finnish, and Marathi. I am currently working on a book on the syntax of Dominican Spanish. 

I have number of research collaborations. I have worked with Dr. Carlos Gelormini Lezama (Universidad de San Andrés, Argentina) to replicate his methodology experimentally testing Montalbetti's (1984) Overt Pronoun Constraint in Cibaeño Dominican Spanish. I have been collaborating with Dr. Chad Howe (UGA) on ad sensum/attraction effects in Spanish. I am currently developing a study on information structure and mood selection in New Mexico Border Spanish with Dr. Kate Bove (New Mexico State University). I am also working to develop an experimental methodology for clitic tripling in Porteño Spanish with Dr. Bruno Estigarribia (Univ. of North Carolina-Chapel Hill). 

Grants:

2019: The 49th LSRL, which was hosted at UGA May 1-4, 2019, was awarded a National Science Foundation grant!

2018: I was awarded a 2018-2019 Fulbright U.S. Scholar grant for research in the Dominican Republic. I spent the fall 2018 semester doing research on the Cibao variety (cibaeño). 
Education

Education:

PhD in Spanish (Linguistics), University of Iowa

MA in Hispanic Linguistics, University of Illinois, Urbana-Champaign

BA in Romance Languages, University of Nevada, Las Vegas