National Collegiate Hispanic Honor Society
Sociedad Nacional Honoraria Hispánica
Delta Gamma Chapter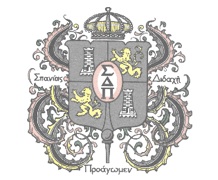 Welcome to the home page of UGA's Department of Romance Languages chapter of the National Spanish Honor Society, Sigma Delta Pi. We'll be holding a new member initiation in the fall semester and will hold a general meeting in the spring.
GOALS:
"To honor those who attain excellence in the study of the Spanish language and in the study of the literature and culture of the Spanish-speaking peoples"
"To encourage college and university students to acquire a greater interest in and a deeper understanding of Hispanic culture"
"To foster friendly relations and mutual respect between the nations of Hispanic speech and those of English speech"
Web Links:
National site for Sigma Delta Pi 
Interested in applying for membership?
Deadlines
applications are due each fall semester: October 30, 2022
acceptance notification: November 6, 2022
dues payment ($40, for accepted applicants only): November 13, 2022
For more information contact one of our Faculty Advisors:
Interested in leadership? Would you like to be an officer on the executive board?
Student Executive Board:
President: Anney Woodard
Vice President: Claire Holman